You Get a Better Price by Booking Direct. To offset that commission, vacation rental managers increase their rates for their listings on Tripadvisor, Booking.com and Airbnb. Plus, some of these sites, like Tripadvisor, also charge a booking fee for their reservations which makes the total price even higher.
BEST OFFER ON HOTELS IN GOA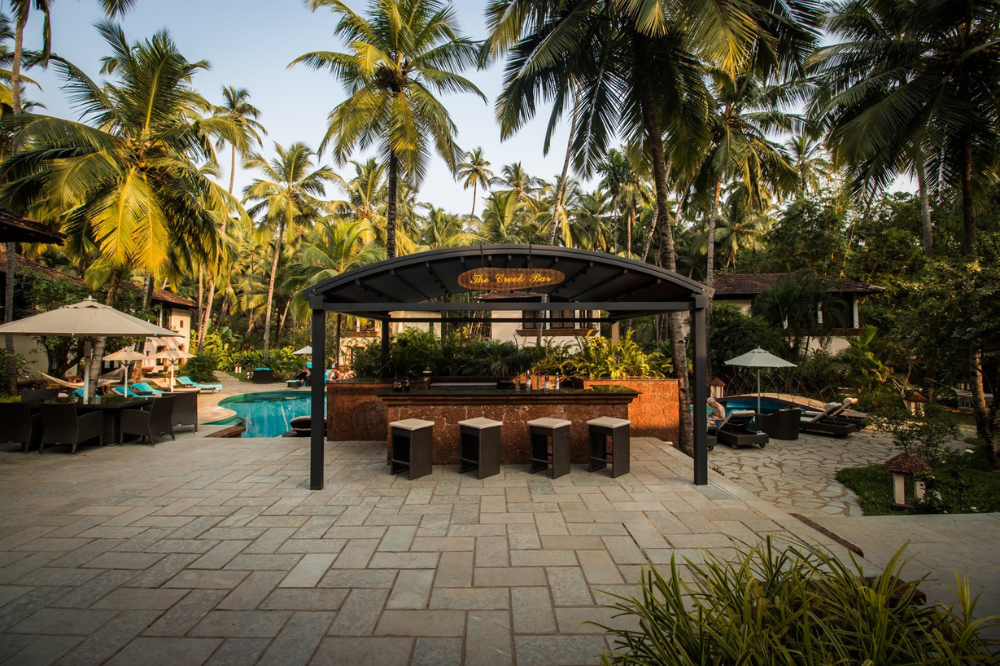 Book Directly | Special Offer
---
FREE CYCLE TRIPS AROUND BOGMALO
Coconut Creek resort is located in the village of Bogmalo, located near Goa's Dabolim airport. Many people think that there is not much to offer and its 'uniqueness' is simply its proximity to the airport. Well, they could not be more wrong. Bogmalo is a rare village in that it has only one road into the village and one road out of the village. It is very proud of the fact that despite advances in technology and increased tourism in Goa, the village has managed to maintain its special village charm with no huge multi-house complexes, no huge hotel constructions and maintenance of the flora and fauna of nature.
The best way to enjoy this village is certainly by cycle. It is small enough even for the beginner cyclist and for those more advanced there are trails further afield to marvel at nearby beaches and beauty spots.
Coconut Creek Resort offers complimentary cycles to enjoy the village and some of the trails involve;
The Village Loop
This trail takes you from the hotel in a loop around the initial lower village of Bogmalo. You pass the village Church of Cosme and Damiao, the wetlands and paddy fields in the centre of the village down towards the Chapel. As you start to return towards the beach you pass many of the local houses on your left while enjoying the grasslands on the right. Finally, you reach the beach and cycle along the front, enjoying the cool sea breeze as you pass. The last stop is of course JOETS where you can stop for a light refreshment or lunch before heading back to the hotel.
The Naval Museum & Heart-Shaped Lake
This trail involves a little uphill climb as well as a little off-road manoeuvring but nothing a small walking section won't help. From the hotel you take the main road out of Bogmalo, passing the Church. About 500 metres uphill you will find the Naval Air Museum which not only is a welcome break in the journey uphill but also an amazingly interesting stop to learn all about the Indian Air Force and Naval sorties of the past. The entrance fee is only Rs….. and you can even buy a drink for the remainder of your trip.
After the museum continues your cycle out of the village and another slight climb. Approx 500 metres further you will see a small road on your right-hand side opposite the bus stop, which leads to getting another Armed Forces site – the Coastguard Headquarters. As you pass the headquarters and continue the road eventually ends and turns into an untarred road which you can still manage by cycle. As you reach a clearing there is a pathway down to a stunning heart-shaped lake.
After the lake, you will be glad to know there is a downhill shortcut back to the heart of the village.
The Hollant Village Trail
The next village along Bogmalo is the village of Hollant, which has a unique beach in that there is no sand but small smooth pebbles instead. This uniqueness makes the sea so clear and clean and an ideal spot for snorkelling or kayaking.
The cycle to Hollant has good and bad elements – first an uphill climb out of Bogmalo but then a lovely downhill ride to the village of Hollant. At Hollant enjoy lunch on the beach shack there, swim in the glorious sea, book a kayaking session or snorkel along the rocks. When the time is right make the uphill climb out of Hollant or even just walk with your cycle past the hardest sections. Once you reach the top of course the ride down to Bogmalo is plain sailing.
So why not book your stay at the resort and enjoy the true essence of Bogmalo with our free cycle hire?
---
1) Booking Fees and Commission
When you make bookings via online booking sites hotels need to pay a commission between 10 % to 25 % of the total booking value! By calling the hotel directly hotels save on such commissions/fees and they would be happy to extend you a discount for such direct bookings.
If you have not done this before. Try calling or emailing the hotel directly and simply ask for a better rate, you can often get a deal!
2) Any Special occasion during the stay?
If it's your wedding night, anniversary or birthday, hotels will try to accommodate your special day as best they can. But If you're booking through a third party, don't expect your request to have made it to the hotel.
And also hotels might not provide such amenities or facilities for bookings from the third party as they need to save on cost or commissions paid to these booking sites already.
3) Want to Amend or change your booking?
There would be occasions when you want to prepone or postpone your stay, But if you have made your booking via an online booking site then the hotel might not allow you to do this and they will simply ask you to make such changes directly from those booking sites. In some cases, you might have to pay a higher rate for the new date!
But if you have booked directly with the hotel then they would be happy to make such amendments as per availability and most importantly without any additional charges, hassles, difficulties or conditions.
4) Cancellations and No-Show Fees!
In case if you have to cancel your reservation and you are not falling into the free cancellation period then the online booking sites or OTA's won't allow you for free cancellation as they have a strict cancellation policy.
On the other hand, if you have booked directly with the hotel then for genuine reasons they can wave cancellation fees. Hotels also allow adjusting the cancellation fee or deposit which you have paid for any future stay of yours.
5) Don't expect any special treatment if you booked via a discount site or OTA!
Hotels offer the best rooms or provide free upgrades to those guests who booked directly with them because it makes more financial sense due to the fact that no commission they have to pay for such OTA's or discount sites.
6) You can be relocated to another hotel.
As a standard practice in the hotel industry, the rooms are always overbooked, and if they cannot accommodate you due to an overbooking situation then the hotel should ( but not always ) find you alternative comparable accommodation nearby. And the first person to walk or move would be those who had booked them via an online travel site or discount site.
7) Are you particular about which room to book?
If you like corner rooms or top-floor rooms or rooms with specific bed combinations (Twin / Double / Queen) then it is always better to book directly with the hotel preferably by their own website or phone/email. Nowadays the hotel's website has a facility to choose the exact room numbers which you would like to stay that way making sure you have the rooms of your choice.
Nowadays the hotel's website has a facility to choose the exact room numbers which you would like to stay that way making sure you have the rooms of your choice.
Also when you book directly with the hotel you are speaking to a staff of the hotel and they will try the best possible way to accommodate your request.
8) Looking for a room on the same day?
If you are looking for a room for the same day then you should definitely call the hotel directly after late afternoon as by then any expected no-shows are usually known by the hotel and there is a higher chance of getting a better price. But if you book from an OTA then you don't get such discounted rates.
9) Hotel's full or sold out?
If you find a hotel sold out on any online booking or discount website then call the hotel directly because most of the hotel only list a portion of their room as online inventory this is because of the commission charged by such sites.
10) Get additional benefits when booking directly.
Hotels encourage direct bookings they provide benefits like free wifi, breakfast, free pick-up and drop, free lounge access etc. for those guests who book directly with them.
[ Source : Top 10 Reasons to Book Directly With Hotels ]